The adoption of cloud services has emerged as a major driver of business success. The ability to leverage the infrastructure and solutions provided by AWS (Amazon Web Services) has revolutionized the way companies manage their operations and stay competitive in an increasingly demanding environment.
In this blog, we will explore how Interfaz, as a strategic partner of AWS, can propel your company to cloud success, fully leveraging all the benefits for your organization. Join us on this journey and discover how we can become your strategic ally in achieving a successful digital transformation in the cloud.
With our expertise in software development, data analysis, cloud migration, infrastructure, scalability, cybersecurity, and automations, we offer a comprehensive solution to maximize the potential of the AWS platform. Get ready to unlock exclusive benefits that will help you reach your business goals and thrive in the digital era.
The importance of AWS and cloud services today is undeniable. According to Gartner's report on the cloud services market, worldwide spending on public cloud services is projected to reach $597.3 billion in 2023, with a 21.7% growth compared to 2022. AWS, as the undisputed leader in the cloud market, holds a significant market share in this landscape. With a market share of around 32%, AWS surpasses its closest competitors. This dominant position demonstrates the trust and preference that companies have in AWS services.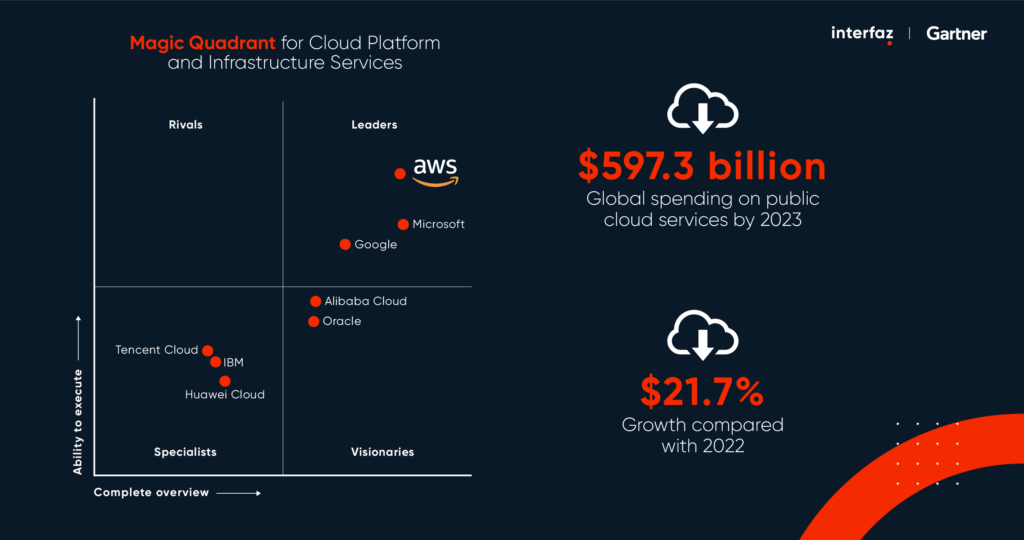 Reliable, scalable, and secure services provided by AWS enable businesses to optimize their operations, accelerate time to market, and reduce infrastructure costs. Additionally, AWS offers a wide range of services and tools that empower organizations to innovate and rapidly adapt to the ever-changing market demands.
Experience + Innovation: benefits of Interfaz as an AWS Partner
Experience and specialized expertise: we have a highly skilled team of experts in various areas. Our professionals hold AWS certifications and possess extensive experience in successfully implementing cloud projects. By working with us, you will gain access to a team of professionals who understand the intricacies of AWS and can help you make the most of the platform.
Access to advanced resources and tools: we have access to advanced resources and tools that enable us to deliver innovative and customized solutions for your company. We can leverage the wide range of AWS services, such as storage, computing, data analytics, machine learning, among others, to design a cloud strategy that aligns perfectly with your business needs.
Specialized technical support: our technical support team is trained to address any issues or challenges you may encounter during the implementation and maintenance of your cloud services. Whether you need assistance in migrating your existing applications to AWS, optimizing your cloud resources, or resolving performance issues, our team will be there to provide the necessary technical support at all times.
We understand that in today's business world, it is crucial to have robust technological services that drive efficiency and growth for your company. As an AWS partner, we offer a wide range of specialized services that allow you to make the most of the leading cloud services platform.
Next, we will explore in detail the benefits of our services and how they can drive the success of your company in the digital landscape.
In addition to the services mentioned above, we offer a wide range of related solutions and services to meet all your company's technological needs. Our highly skilled and experienced team in AWS is ready to help you make the most of the platform, tailoring our solutions to your specific requirements to drive your business success.
At Interfaz, we take pride in being an AWS partner and offering specialized services. If you're looking to take your company to the cloud with the help of AWS experts, don't hesitate to contact us. Don't wait any longer and discover how we can propel your business to cloud success.
Source: Gartner, "Forecast Analysis: Public Cloud Services, Worldwide, 2018-2024, 4Q20 Update" | Synergy Research Group, "Q4 2020 Cloud Market Share Report